What Causes Digital Eye Strain?
Digital eye strain may be linked to several habits. These include:
Infrequent Blinking
Most people blink less when looking at screens, which means our eyes become dry more quickly and start to feel fatigued.
Sustained Focus
Staring at screens (or other objects) that are too close to your face can put strain on the muscles that help your eyes focus. This strain can produce aching pains and a tight sensation near the eye area.
Fighting Digital Eye Strain
You may be able to reduce some of your DES symptoms with the following strategies:
Using the 20-20-20 rule to help you rest your eyes during long periods of screen use. To follow this rule, simply focus your eyes on an object 20 feet away for 20 seconds, and repeat this process once every 20 minutes.
Wearing specialty eyewear (often called "computer glasses") to reduce the amount of blue light that enters your eyes. Computer glasses may help people who typically use screens near bedtime enjoy a more restful sleep.
Your eye doctors at i-Care Optometry will be happy to provide you with more tools and strategies for fighting the effects of digital eye strain. Contact us today to book an appointment and let us find a personalized solution for you.
Come See What We're All About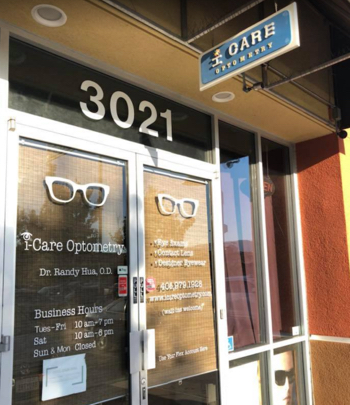 Visit Us in San Jose
Our practice is located in San Jose on Meridian Avenue near the corner of Foxworthy Avenue.
3021 Meridian Ave

San Jose

,

CA

95124
Hours of Operation
Monday

:

Closed

Tuesday

:

9:00 AM

–

5:30 PM

Wednesday

:

9:00 AM

–

5:30 PM

Thursday

:

9:00 AM

–

5:30 PM

Friday

:

9:00 AM

–

5:30 PM

Saturday

:

9:00 AM

–

3:00 PM

Sunday

:

Closed